What are end-to-end shipping solutions, you ask? Let's start by answering what end-to-end means in  a business sense first. End-to-end refers to the business processes that takes a system/service from start to finish, offering a complete and full solution without the need for additional assistance from different parties. Now in a logistics concept, an end-to-end shipping solution refers to the same provision from start to finish but with regards to shipping logistics towards a hassle-free supply chain process.
Logistics being an integral part of a supply chain process, the offer of end-to-end shipping solutions is a much-needed value addition service that many startups and small to medium business often rely on for their hassle-free convenience. It often starts at the point of origin and ends at the final destination often with customer consumption.  It's important to remember that shipping/logistics are directly interconnected with supply chain management, which is also reliant on the seven Rs. These include "'getting the right product, in the right quantity, in the right condition, at the right place, at the right time, to the right customer, at the right price'.
There are many advantages to end-to-end shipping solutions, from assisting in meeting client needs, providing a competitive advantage, agility and cost savings, flexibility and scalability, mitigation of risks, faster product deliveries, and not to mention hassle-free processes.
The processes of end-to-end shipping solutions with the assistance of supply chain management factors circular timeline of what the consumer needs to the product design, product development, vendor compliance, raw material sourcing, factory sourcing, manufacturing control, shipping control, forwarder consolidation, customs clearance, local forwarding consolidation, wholesaler, to the retailer and finally the consumer again fulfilling the supply to their demand.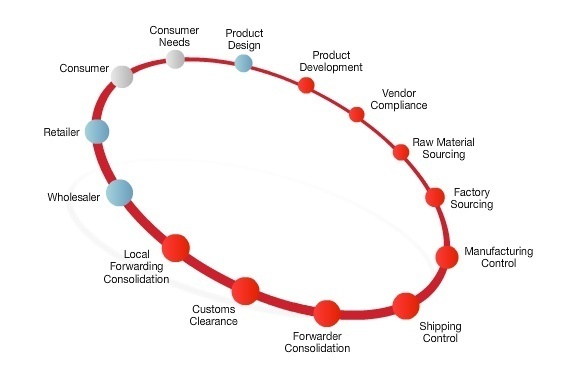 In certain scenarios depending on whom you enlist to be your end-to-end shipping solutions provider, they may assist with  various steps in the supply chain process including inspection of goods, booking shipment slots, filing for customs clearance requirements, delivery to warehouses, verifying quantities and not to mention shipping labels, inventory management, delivering to the final consumer and even handling returns if needed.
Ensuring seamless hassle-free end-to-end shipping solutions is extremely sought after my various businesses that require the assistance of not having their own inhouse logistics and fleets.