Agri Logistics
Using in-house expertise, our overall commitment is to provide satisfaction, reliability and responsive service that is so highly demanded by the Australian agriculture industry and at a price that will make Agri-business happen.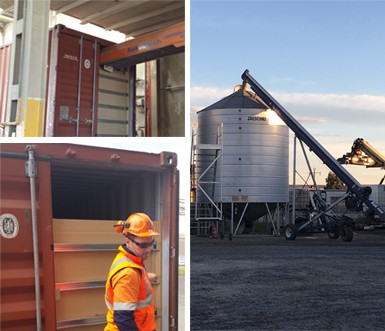 Our primary aim is to give our clients a hassle-free, seamless service to take the stress out
of the logistical operations. In a smooth functioning supply-chain for Grains, Frozen Meats, Dairy, Fruits, Wines or Vegetables, you can be sure that Transco has created several strong links.
Transco Cargo adds value by choosing the best option among an array of Ocean carrier services*, Land-side operations(including support for storage/packing/Transport) and Documentation&Process choices and backing it up by professional, experienced and hands-on advise.
Options offered to the customer arebased on the type of product, origin Ports in Australia, Shipping capacities in each origin Port, destinations, and routings of the shipping lines, through a process well honed in the practise of shipping &Export operations.
Whatever 'out of the ordinary' requirements the customer and his buyer has, will also be handled through our knowledgeable, competent and trained staff.
The value adding is topped up by expert guidance & support throughout the Export Operation, until the sailing of the vesseland most times even up to the CY point at the destination. (ie. cargo damage in transit, diversions due to exigencies, damages to containers during handling etc.)
For Agri Logistics Hotline +61451240400
Remember, we are with you all the way, as "We Love to Deliver"
*Ocean Carriers have various strengths when it comes to carrying Agricultural produce. Some of them are more specialised in Frozen/Chilled products and have more capacity and wider geographical range in delivery. Some are more efficient in dry products and able to supply different types of Containers from a different mix of Load ports in Australia -while still some others are able to offer more skilled services in carrying Agri-Machinery and Oils (in Flexitanks& ISO containers)and some are very reliable by having direct services to North East Asia and Europe. At the same time, certain carriers are more into electronic documentation and processes.