We live in a world that now revolves on instant gratifications and this in turn has revolutionised our businesses and personal lives. When we want something, it is usually "now" as opposed to later and reliability and punctual delivery of those items is key. That is why courier services and delivery of goods, parcels, and packages are extremely important. Whether you are looking at an receiving an item within your own city, state or from a global location, you need to be assured that you item will be received within the stated delivery time, and even earlier if they are given the option of express courier!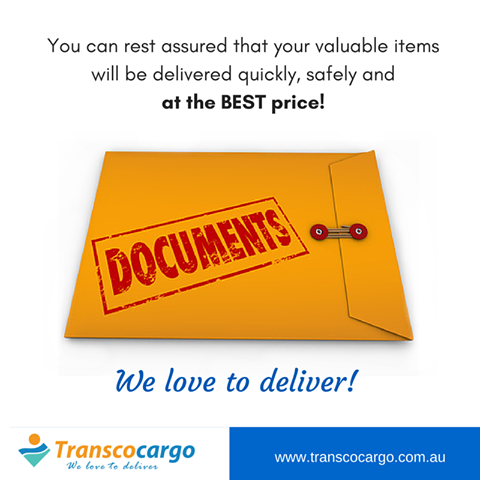 If you are looking to send a document or a parcel locally or even require us to send multiple boxes internationally, you can either opt to drop it off or for your convenience, even schedule a pick-up. It' easy as that. All we ask if that the necessary documentation and boxes are correctly written in or labelled. Of course, if you have questions or need assistance, we're always here to help. Just give us a call or send us an email, and we'll help you with your shipping problem as soon as possible. If you are looking for a comprehensive courier and delivery service for an affordable rate, that includes not just the delivery of your items, but also packaging and collection, then you're at the right place. Transco Cargo offers some of the best shipping rates in Australia!
 If you're on the lookout for a local or international courier provider for your business, or even for personal shipments, we can assure you that we are the choice for you! With a comprehensive network of courier agents in Australia and globally, we are more than capable to move your express freight across the country or internationally! We can tailor our courier services and delivery based on your requirement! It's as simple as that!
At Transco Cargo, we have an established network of delivery providers for local, interstate and international deliveries that makes us the reliable choice as your freight forwarder and/or courier service to ensure that what you pack and send, be it documents, parcels, packages, or boxes/crates are in safe hands for a safe journey from sender to recipient. For an express courier quote, please follow this link to get started – Transco Cargo Express Delivery Quote.